You won't often win your matches in Word With Friends if you don't know the two-letter words list. Not only is it helpful to know which words can be played, but it's also helpful to know which words cannot be played. In 2019, Zynga added several new two-letter words to the list of playable words. So I figured it's time to post an updated list here on my site. So here it is; the new Words With Friends 2 Letter Words list 2020;
*** 5/21/20 WORDS WITH FRIENDS UPDATE
Apparently the overlords at Zynga have once again arbitrarily decided that previously-accepted words will no longer be accepted. So in addition to adding 13 new two-letter words in 2019, they have now scratched some long-established two letter words from the playable list.
I went ahead and updated my WWF 2 app to the latest version (on my Android phone). And then I tested the entire list of two-letter words that you see below. The only 2-letter words on the list I couldn't play were ZA and IB. That's it. Everything else was playable. IB is one of the 14 that were added last year. Nobody knows or cares what it means, so it won't be missed.
Disallowing ZA, on the other hand, is a total game-changer. I can't tell you how many times I've dropped a ZA bomb on my opponents with devastating results. We're going to miss you, ZA.
So many 2-letter words just disappeared!

— Laurie Jakobsen (@lljay27) May 21, 2020
In the comments below, some are saying they're unable to play several other words that were previously accepted like BO, BI, PO and WO. As of this date, 5/21/20, I can still play all of those words.
Why are they unable to play these words while I still can? Well, you'll never get an answer to that question. It's just another example where Zynga sloppily rolls out sweeping changes across the multiple versions of its signature game.
I highlighted in blue the 2-letter words that were added in 2019. Turn your phone to the side to easily see all 6 columns;
New Words With Friends 2 Letter Words List 2020
| | | | | | |
| --- | --- | --- | --- | --- | --- |
| AA | AB | AD | AE | AG | AH |
| AI | AL | AM | AN | AR | AS |
| AT | AW | AX | AY | BA | BE |
| BI | BO | BU | BY | DA | DE |
| DI | DO | ED | EE | EF | EH |
| EL | EM | EN | EO | ER | ES |
| ET | EW | EX | FA | FE | FI |
| FU | GI | GO | HA | HE | HI |
| HM | HO | IB | ID | IF | IN |
| IO | JA | JE | JO | KA | KI |
| LA | LI | LO | MA | ME | MI |
| MM | MO | MU | MY | NA | NE |
| NO | NU | OD | OE | OF | OH |
| OI | OM | ON | OO | OP | OR |
| OS | OU | OW | OX | OY | PA |
| PE | PI | PO | QI | RE | SH |
| SI | SO | TA | TE | TI | TO |
| UH | UM | UN | UP | US | UT |
| VU | WE | WO | XI | XU | YA |
| YE | YI | YO | ZA | | |
Unlike other game developers who only make minor tweaks to their successful games, Zynga has proven their willingness time and again to make drastic changes to Words With Friends, for better or worse. Sometimes, those changes are good like the free Word Meter and Fast Play mode. I especially love Fast Play mode. Playing a game in Classic Mode now seems like a long-term commitment.
Other changes, however, appear to have compromised the integrity and fairness of the game. In particular, I'm referring to the Power Up features which became a standard part of Words With Friends 2. Before that update, if you wanted to cheat at Words With Friends, you had to leave the app and go to some other app to get an unfair advantage. And I'm sure there are plenty of players who are still doing that. But now cheating is a feature of the game! I wrote all about it in another post, Swap Tiles in Words With Friends Without Losing Your Turn.
It Is What It Is
Anyway, Zynga has made it clear they're going to keep making drastic changes to their game. I'm sure they're making lots of money as players buy the Power Ups and thereby gain a huge advantage over their opponents who aren't using them. To me, that's a strange thing to allow. Imagine a chess match where the pawns and rooks of one player get to make all the moves that a queen makes because that player paid $1.99.
Time will tell if it hurts the popularity of the game. All we can do is adapt to the changes, stop playing or play another game. Scrabble will always be waiting with open arms for the vocabulary purists.
another post you may like:
Speaking of Scrabble…the classic board game also recently added 300 new words. Merriam-Webster recently released the 6th edition of the "The Official Scrabble Players Dictionary" which includes long-awaited 2-letter words OK and EW. It had been 4 years since the last update. Now, if you ask me, adding 300 new words after 4 years sounds reasonable. It also makes plenty of sense to add OK and EW.
Zynga, on the other hand, appears to have added tens of thousands of new words to its list of playable words. Some of which are cheeky acronyms like BFF and TFW. This appears to be some kind of cutesy effort to include slang words that have become common and popular in recent years…especially on social media. That's fine, I suppose. But if they're now going to accept popular acronyms, then why not include OK and IQ?
New Word Implications
As is always the case with change, some people will be quicker than others to take advantage of those changes. I've already played all the new 2 letter words in my recent games. They significantly add to the potential of your letters. Several opponents questioned how I was able to play words like JE, VU and IB, which had never been acceptable before.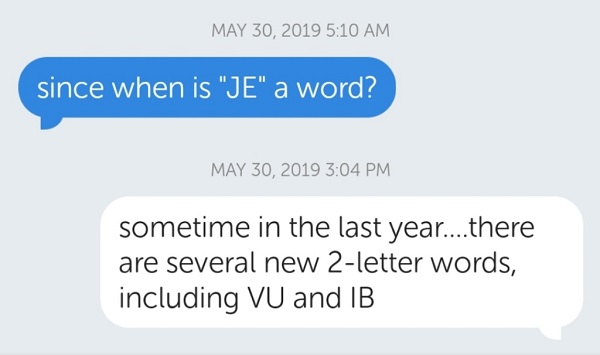 Another guy kinda implied that I was somehow cheating…as if I had an unfair version of the app which allows me to play words that he couldn't play.
New Additions to the Words With Friends 2 Letter Words List: BU, EE, EO, FU, IO, JA, JE, OO, OU, PO, TE, VU, YI
The bottom line, however, is that the new 2 letter words make it a lot easier to play two words alongside each other. How many times have you been unable to play a big move because it included an invalid word like IO or FU? Well, those two words and 12 others are now playable. Just imagine if a word like PIETA is already on the board. On the 5 spaces beneath that word, you play OTHER. In addition to your points for OTHER, you also get points for PO, IT, EH, TE and AR. Six words on one play! It wasn't often you could make a move like that. But it's going to be a lot more common from now on.
Definitions Don't Matter
I hope none of you are having a problem with the fact that these new words are ridiculous. Indeed, they are. I mean, yes of course they do have definitions and they probably mean something to someone. But I'm willing to bet you won't speak or hear them this year or any other year.
Anyone who is still preoccupied by the legitimacy of the words on the board probably hasn't been playing very long. He's probably into crossword puzzles and figured he would also like this other word game.
But as for seasoned players of the game, we all know that Words With Friends isn't really about words. The meanings of the words are irrelevant. They could've added words like RO, UI and XO to the list of playable words and it wouldn't have mattered. What matters, first and foremost, is that you know what words you can play. But then after that, you have to know when and where to play them for maximum points. THAT is what this game is all about.
Please comment with your thoughts on the new 2 lett