MONO's next studio album with be their 10th. Following its release, the Japanese rockers will likely tour the world again with another relentless schedule. In 2019, they celebrate their 20th year of making legendary music. To commemorate their two decades together, the band has been posting short commentaries on social media (#MONO20Years) about their most popular tracks. Their music has no lyrics, so these commentaries provide some fascinating insights into the meaning of their music. Here's an example:
Continue reading below
I had always wondered about the inspiration of this track (16.12). Now I know it's an ode to Beethoven, whose birthday was December 16. Very cool!
MONO's Unknown Song
Although I'm certainly pleased to learn more about MONO's most popular music, it's one of their obscure, unknown tracks that has intrigued me most of all. You won't find it on any of their albums, nor on any of their old EPs. They've never mentioned it publicly or played it during a show. In fact, the only reason I know about it is because someone posted it on YouTube in 2011.
The track is titled Yesterday Once More, a cover version of The Carpenters' 1973 hit song of the same name. And even though MONO recorded this cover a long time ago and made no effort to promote it, I think it's one of their most beautiful songs. MONO frontman Takaakira Goto (Taka) graciously shared the story of this recording with me and I'm happy to pass it along to the fans of this amazing band.
Human Highway
During MONO's early days, the band started their own label, Human Highway Records. Through this label, they would release the albums of Temporary Residence artists in Japan. Temporary Residence (TR) is the Brooklyn-based record label that releases MONO's records in North America. It's owned by Jeremy deVine, MONO's longtime friend and collaborator. In 2003, MONO invited several TR artists to Japan to record a Human Highway compilation album. Those bands included Explosions in the Sky, Eluvium, Maserati, The Drift, Lazarus, Tarentel, Bellini and others. They toured Japan with MONO and stayed at their homes. I can only imagine how amazing those shows must have been.
The recording took place at Taka's "Studio Forty-4" and the drums were recorded at a studio in Tokyo where MONO usually rehearses. Each of the bands recorded their contribution to the album. This is when the MONO foursome (Taka, Tamaki, Yoda & Takada) recorded their very own arrangement of The Carpenters' Yesterday Once More.
MONO's cover of the song has no lyrics, of course. But it clearly follows the ups and downs of The Carpenters' original version. They creatively replaced the piano parts with guitars and synthesized strings which combine for a beautiful sense of nostalgia and sorrow. One commenter on the YouTube video said "MONO, why you gotta go and make me cry again?"
Beethoven, Rachmaninoff and The Carpenters?
On the surface, it would seem unlikely that an intense, non-vocal rock band from Japan would be inspired by the soft sounds of Richard and Karen Carpenter. The all-American duo released Yesterday Once More on their 1973 album, Now & Then. MONO's inspirations, however, go far beyond the boundaries of any one musical genre. Taka often cites classical composers, literature and films as major influences over his writing. So it is therefore not surprising that he and MONO would cover a sentimental song from the '70s.
"We loved The Carpenters' 'Yesterday Once More' because it's heartbreaking and beautiful. We were curious what kind of original world we could create by our arrangement…like, how would Led Zeppelin have arranged it. We had fun rearranging it." – Taka
Only 100 copies of the compilation album were made. And they were given away for free. Needless to say, that album is now a valuable possession for the small number of people who own it. We can only assume that it was one of these lucky owners of the album who uploaded Yesterday Once More to YouTube. The comment section of that video is filled with MONO fans asking about the origins of the song. "What album is this from?" "What EP is this," they ask.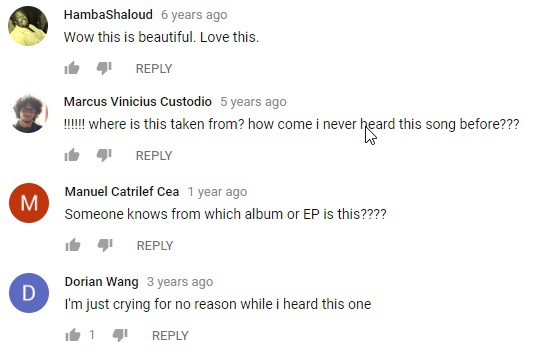 I had the same questions. The total absence of this song from MONO's discography made me wonder if it was in fact MONO who recorded it. They never claimed to have recorded this cover, but it sounds just like MONO, I thought. The style, the emotion and the beauty of the track led me to conclude that it must certainly be MONO. And it was only recently that I contacted Taka to find out the truth. He acknowledged that hardly anyone knows about it. Even Jeremy deVine would say "This is not MONO" when people asked him if it was MONO's song.
"We ourselves never really mentioned or cared about it so much." – Taka
MONO Yesterday Once More
As a result, Yesterday Once More has become MONO's unknown song. The most loyal fans of the band, myself included, are familiar with all of their work – even the classic tracks from their first EPs which they don't play anymore. But none of us knew where Yesterday Once More came from until now.
Taka mentioned that he had not listened to the track for many years until I brought it to his attention.
"Listening to it again after so many years, I must say it gives you a very special feeling. It's warm, heartbreaking and makes my heart heat up." – Taka
The ironic thing about this last comment from Taka is that he's expressing the exact sentiment that The Carpenters' expressed in their lyrics of the song. It's all about listening to the radio, hearing old songs that you haven't heard for a long time, and feeling the same emotions you felt when you heard those songs many years ago.
When they get to the part
Where he's breakin' her heart
It can really make me cry, just like before
It's yesterday once more
It's amusing to think of all the bands that are struggling to make decent music. The feverishly promote anything they record. Meanwhile, MONO simply leaves one of their masterpieces in the closet and forgets about it.
Fortunately for us, we're not limited to MONO's music from the past. In recent months, the band has written and recorded new music with a new drummer who replaces Yasunori Takada, who departed from the band in December 2017.