1/25/19: MONO Releases 10th Studio Album, Nowhere Now Here
One thing I've always appreciated about MONO is their apparent disregard for what other bands are doing and what critics are saying. MONO has never tried to replicate anyone's sound or follow the path of any other band. They are singularly led by their own inspirations, particular those of the band's founder and leader, Takaakira "Taka" Goto. The result is two decades of original, genius music…some of which represents the absolute best the genre has to offer. Tag: MONO Nowhere Now Here
I've not yet heard or read any interviews of Taka about his inspiration for MONO's 10th studio album, Nowhere Now Here. I'm sure I will soon. I may even reach out to Taka myself to request an interview. But before we learn more about what inspired this album, we now finally have its music and artwork on which to judge.
Having already listened to its 10 tracks several times over the last few weeks, it's clear that MONO has once again put out an original album in which they continue to explore the boundaries of their sound.
MONO in 2018
For 20 years, MONO has toured all over the planet. They navigated through a challenging industry which offers long tours, demanding schedules and few rewards. They offered up their albums to cold critics who said they should do more of this and less of that. And then, late in 2017, just when they were about to prepare for this latest album, MONO lost one of its founding members, drummer Yasunori Takada.
A setback like that might have derailed the plans of other bands. MONO, on the other hand, didn't miss a beat. Within two months, Dahm Cipolla Majuri became MONO's new drummer. They fine-tuned and recorded the new album during the first half of 2018. They played the After Hours festival in China, Robert Smith's Meltdown Festival in London, a couple of shows in Tokyo and then their first ever show in India.
After that, MONO did one of their dense European tours in October; 22 shows in 23 days. Most bands would consider that a busy year. For MONO, it was lighter than usual. 2018 was the first year in a long time that MONO didn't play a show in America. Ironically, however, 2018 was the year MONO added an American to their band.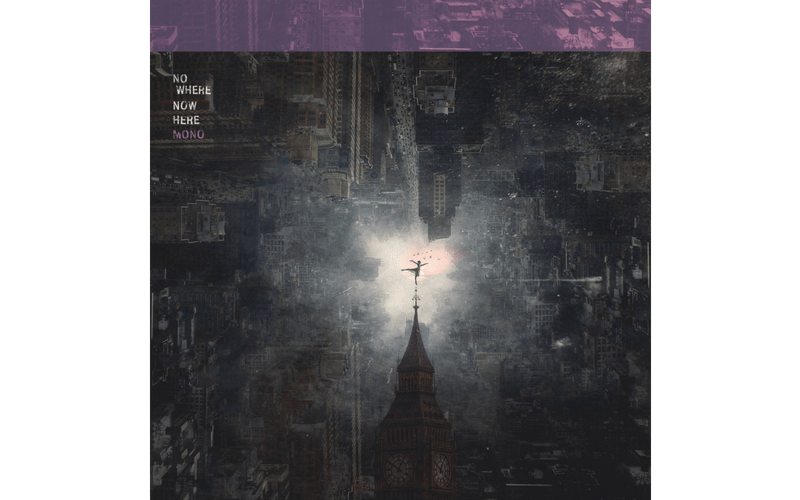 MONO's Defiant Album
One word repeatedly comes to mind as I listen to the album and gaze at its cover; defiance. My impression of Nowhere Now Here is that of a big middle finger which defiantly extends towards the expectations of where we should be, what we should be doing and what we should have already done.
The cover of the new album shows a dark, dreary cityspace on all four sides. I imagine this is how MONO sees the big cities of the world. They probably all begin to look the same after so many years of visiting them. Yet, in spite of the darkness…in spite of the cold, harsh realities of the world, a radiant ballerina defiantly poses in the middle of it all. Her elegant silhouette stands out in the small amount of light on the album's cover.
My interpretation is that the dark cityscape represents your past…every place you've been and everything you've gone through. It's dark and blurry because it's all fading into the back of your memory. And frankly speaking, that's where it belongs. Whether they're good memories you want to remember or bad memories you want to forget, none of them matter anymore. They're nowhere.
The only thing that matters is right now, right here and the choices you make for this moment. Forget about all your wounds, all your insecurities and the baggage you picked up along the way. Instead of slumping yourself into this new moment, shine bright with all the confidence you can muster. Right now, in the present time, there is light, hope, beauty and perfection.
Another post you may like:
MONO Nowhere Now Here – Album Review
God Bless is the 2-minute opener of the album. Its tranquil strings and horns put forth the false impression that MONO's new album is going to be light and easy. That expectation is quickly obliterated by track #2, After You Comes the Flood.
This is the type of song I expected to hear on the Rays of Darkness album. It sounds like a demon roaming the earth…knowing it only has a few minutes left before it gets dragged back down to hell. From beginning to end, the MONO foursome pounds away at the same marching riff. Taka's guitar shrieks in terror towards the end. Finally, the relentless pummeling of After You Comes the Flood finally subsides as the demon is returned to his fiery pit.
Breathe
I've already read several reviews in which critics claim that Breathe is the first MONO song with lyrics. That is false. It's actually the third. Black Rain was the first (Italian) and The Hand That Holds the Truth (Japanese) was the second. Breathe, however, is most certainly the first time we get to hear Tamaki's voice.
It's hard to make out the lyrics, but she's clearly singing in English. Tamaki doesn't try to do to much here. If anything, her voice is just another instrument which leads us to the real stars of the show; the guitars. Taka's initial strums at the end of Tamaki's vocals, however, are somewhat awkward. I mean, it actually sounds like he's playing the wrong notes. There must be a better way of making that transition.
Anyhow, I'll give them the benefit of the doubt…they don't work with vocals very often. It's not until Yoda comes in at 3:00 that Breathe becomes a song that MONO is comfortable playing. The second half is actually quite beautiful.
As I read Shaun Lawton's review of this album, I was astounded at the point where he mentioned  that Breathe reminded him of a song from Twin Peaks. I can't quite put my finger on which song it reminds me of…perhaps the synthesizer at the beginning of Laura Palmer's Theme.
Nowhere Now Here
Following these first few powerful yet dissimilar tracks, Nowhere Now Here starts to hit home with its self-titled track in the 4th spot. This is where MONO lulls the listener into thinking he's already heard this track before. Yoda starts out with a soft, repetitive pattern before Taka adds a few inquisitive riffs. Long notes from a couple of trumpeters accompany the guitars along the same melancholic lines. It's an intentionally frustrated sound which bears out the dreariness of doing the same thing over and over…perhaps for years…perhaps for a lifetime.
Rather than build up the volume towards a crescendo, as MONO is quite fond of doing, they implement another one of their favorite tactics; jostling your speakers, nerves and eardrums with a sudden jolt of volume (i.e. Halcyon, Ashes in the Snow). That's what they do here at the 3:15 point of this track.
More than at any other point of the album, the next few minutes embody the defiance I alluded to earlier in this review. It's a resolute struggle against the monotony that preceded it… like a man who's desperate to break free from the way he's always been and the things he's always done. Even the trumpets join in the uplifting effort.
And lo and behold, this is our first real opportunity to hear the varied skills of Dahm Majuri Cipolla behind the drum set. He demonstrated some hard-hitting power in After You Comes the Flood. But here in Nowhere Now Here, Dahm masterfully changes gears and skips around during this momentous middle portion of the song.
At 5:24, the track resets with an echoey series by Taka with Yoda rhythming behind him. Tamaki and Dahm come in gradually. Taka steps on a pedal at 7:16 and that's when you realize you're listening to yet another MONO masterpiece.
The elegance and power during the last third of this track is quite special. This is where MONO seems to be saying they have no intention of slowing down or retiring anytime soon. And rather than shrinking back into the simple formulas that worked for them in the past, they've expand their boundaries even further on this 10th studio album which features strings, trumpets and vocals.
Far and Further
After 4 tracks, whatever doubts remain about this album are quickly dissipated by the 5th track. Far and Further, in my opinion, is the best song of the album. At just under 6 minutes, it's shorter than most of MONO's legendary tracks. But it's just absolutely beautiful and I've already listened to it a hundred times.
Beginning around 3:40, Taka's guitar begins to groan. There's nothing complex about it, but the up and downs and winding swells of this portion are simply breathtaking. The only downside to this song is that it comes to an end, although I can't imagine what they should've added to it. A heartbeat and electronic pulses bring it to a close. And then, before I go on to the next track, I play this track again.
Sorrow and Parting
Upon seeing that the title of the 6th track is Sorrow, I thought to myself; "Wait a minute, doesn't MONO already have a track named Sorrow on one of their previous 9 albums?" But alas, they do not. It's an emotional territory they have certainly explored many times before. Their entire 2006 album, You Are There, captured the essence of loss and sorrow so perfectly. And there's no way for anyone to top that album…not even MONO themselves.
There's nothing wrong with Sorrow. Most bands would be lucky to sound so good alongside a group of professional violinists. The exchanges between MONO and the stringed instruments are beautifully done. Sorrow simply has the misfortune of following two incredible songs. It's also a little too similar to tracks they've already done. Not only was the title familiar to me, but the song itself sounds like something from the Last Dawn album.
In any case, Sorrow is definitely not a song I would skip. Its downtrodden melancholy would've strongly resonated with me 20 years ago when I was perpetually stuck in a haze of various sorrows. But nowadays, as a happy, middle-aged man, all I seem to want is beauty and power…which MONO produces in abundance.
Speaking of beauty, the stringed instruments get all the playing time in Parting, the 7th track on the album. This, I would imagine, is the music that the ballerina on the cover is dancing to. It's tranquil and serene without trying to do too much. Reminds me of Follow the Map…a short song with lots of piano and strings. Parting is the same…a brief, soft respite on an otherwise intense album.
Meet Us Where the Night Ends
Is it just me, or does the ghosty first minute of Meet Us Where the Night Ends sound a lot like the beginning of Let Me Back In by Explosions in the Sky? And then the guitar melody which follows sounds like Inventions by Maserati. I know I'm not the only one who thought this. Anyhow, it's just an observation, not important at all.
Meet Us Where the Night Ends is one of the enduring highlights of this album. The layered intro is so perfectly executed. Taka comes in at :59, then Tamaki at 2:15, then the strings and then Dahm on drums shortly after.
The middle portion from 3:39 to 6:42 is excellent. No one's doing anything special here. Tamaki's simply banging out the same note over and over on bass. But all the simple pieces come together to produce a powerful harmony. It also creates a lot of anticipation for a proper conclusion. But alas, it never comes. During the last two minutes of the track, Meet Us kinda loses its way…as if they weren't sure how to end it.
Also, I don't know about you, but I tend to roll my eyes every time a good band tries to use distortion in an otherwise excellent song. I remember hearing Pure as Snow for the first time…absolutely convinced from the first listen that it was one of the best songs I'd ever heard. And then, just like they did in this song, they concluded Pure with a bunch of ear-piercing noise. It immediately makes me skip to the next track. And that's a real shame because it's one of MONO's best songs.
Bottom line, I'd love to Meet (them) Where the Night Ends. But I'm afraid they simply didn't show up. Anyhow, it certainly was a beautiful path which led to that place. This is a pretty good song. And I wouldn't be surprised if they find another way to conclude it during their live shows.
Here's MONO playing Meet Us Where the Night Ends, live in Germany on 10/10/18
Funeral Song
Funeral Song is three minutes of long trumpet notes and haunty synthesizers. Not much to see here. Reminds me of Surrender from the Rays of Darkness album. They're both forgettable tracks. The big difference between the two is that Funeral Song is surrounded by some great tracks on this album whereas Rays of Darkness was almost entirely disappointing.
Anyhow, Taka's continued experimentation with brass instruments is a good sign. Explorers are gonna explore…that's what they do. Some of it's going to work and some of it won't. I'm looking forward to the album where Taka figures out how to perfectly blend the guitars of his band with brass and wind instruments. That album, I'm quite sure, is forthcoming.
Vanishing, Vanishing Maybe
There's no other way to say this except to put it plainly. Vanishing, Vanishing Maybe sounds like the song of a band that's trying to sound like MONO. Don't get me wrong, Vanishing is pleasant and it fits in with the theme of this album. But here's the thing…when you get one of those urges to hear a MONO song, this won't be the song you're looking for. This is one of those tracks you skip when they come up on your MONO station on Pandora and Spotify. Problem is, on this album, there's no song for you to skip to. Vanishing is the last track on the album, which is quite surprising. On most of MONO's albums, they saved their absolute best for last (Moonlight, Everlasting Light, The Last Dawn). Of the 10 tracks on Nowhere Now Here, tracks 2, 3, 4 & 8 are the real highlights.
Nonetheless, although the album isn't punctuated by another classic MONO track, no fan of this band has any room to complain. This is yet another darn good album which has a handful of great songs that you'll want to replay.
MONO in 2019
For me personally, this album was a big relief. After years of silence from Explosions in the Sky (1 album in the last 8 years) and the colossal letdown of This Will Destroy You's new double album, I worried a little that MONO 10th album would also come up short. It certainly would've been understandable considering the challenges they have recently faced.
I realize now more than ever that MONO is incapable of going backwards. This band is constantly moving on to the next thing. Taka even said in a recent interview that he rarely thinks about MONO's old music. This is pretty ironic when you consider that much of their music conjures up emotions and experiences from the past. They even have a song called Nostalgia.
Contemplative, thought-provoking music is what the MONO does best…and absolutely no one does it better. But this self-introspective music is in sharp contrast to the way they carry themselves as a band. Onward they march, from one city to another, from one part of the world to another. Name another band that routinely plays 22 shows in 22 different cities in 23 nights?
It's still early in 2019 and MONO has already loaded their schedule with tours of Asia, Europe and America. And I can guarantee you the 11th MONO album is already writing itself in Taka's brain as they tour the world. And for this, I am thankful. The genre with which MONO is usually associated is loaded with wannabes and good bands who seem to have run out of ideas.
Meanwhile, MONO is exploring and pushing at their borders and trying new sounds. Their last five albums, including this one, don't quite reach the level of greatness of their first five albums. But I'm just glad they're constantly striving to make something new rather than trying to recapture their past greatness. Again, I have no complaints. For as long as MONO's making music, I will happily listen to it.
Here is Nowhere Now Here in its entirety ↓
9/25/18: MONO Announces 10th Studio Album: Nowhere Now Here
MONO once again explores the quietest and most chaotic parts of life in their 10th studio album, Nowhere Now Here. The album releases January 25, 2019 in celebration of the band's 20th year of making music. Along with the announcement of the album's title, MONO launched a completely revamped version of their website. It highlights the mesmerizing cover of the new album and includes lots of new information about the band.
This album cover is mesmerizing…

NOWHERE: a dark city landscape on all four sides, most of it just a blur like the distant memories of your past.

NOW HERE: in the center, in the present time, there is light, hope, beauty and perfection.

That's my interpretation. pic.twitter.com/wIbcML9DKm

— MONO fans (@MONOfans) September 25, 2018
The Calm Before the Storm
2018 was an unusual year of transition for MONO. Following the abrupt departure of drummer Yasunori Takada in December, the remaining MONO trio had to spend the first few months of the year finding a new drummer and then getting to know him. Dahm Majuri Cipolla, an American, was officially announced as MONO's new drummer on September 7th.
Before that announcement, however, MONO recorded their new album with Cipolla. They also played a handful of important shows with him. But MONO kept their performances to a minimum during the first 9 months of the year. The one and only show they were scheduled to perform in North America was cancelled.
But it was clear to fans of the band that MONO was quietly preparing for another frenzy of activity. This October, they're scheduled for 22 shows in 23 nights all over Europe. They will likely soon announce another tour for the end of 2018. And then in 2019, following the release of Nowhere Now Here, they're expected to tour all over the world again.
MONO Nowhere Now Here
Temporary Residence Ltd. will make the new album available in a variety of vinyl formats, in addition to the usual CD and digital options. It includes 10 tracks, which is considerably more tracks than most MONO albums. Here's the list of tracks.
God Bless
After You Comes the Flood
Breathe
Nowhere, Now Here
Far and Further
Sorrow
Parting
Meet Us Where the Night Ends
Funeral Song
Vanishing, Vanishing Maybe
The third track, Breathe, features vocals by bassist Tamaki Kunishi. I haven't heard it yet, so it's unclear whether she simply speaks during that track or is actually singing. In either case, it's going to be the first time we ever hear the voice of a MONO member during one of their songs.
I'm especially curious about Vanishing, Vanishing Maybe, the last track. MONO has seemingly gone out of their way to conclude their last several albums with the best track of that album. Hopefully Vanishing is another long, unfolding experience like A Quiet Place (Together We Go) and The Last Dawn.
After You Comes the Flood is already available for streaming on Spotify and YouTube. It's the title track of a new short film by Julian Levy. Here is MONO playing another one of the new tracks from their new album at Robert Smith Meltdown Festival in London (6/22/18):