This month began and ended with cowardly terror attacks in which two deranged, lost souls preyed on innocent civilians. The first occurred in Las Vegas where dozens of people were killed by Stephen Paddock. The entire month came and went and the motive of this madman is somehow still unknown. And then late in the afternoon on Halloween, Sayfullo Saipov from Uzbekistan plowed a truck into a bike path that was full of people, killing at least 8 of them. A letter in his vehicle plainly stated he committed this act in support of ISIS. Journal October 2017
Aside from all that horrible news, Aniela and I continued to get ready for the arrival of our baby boy. Looks like he's going to be a November baby after all. I think we're ready. And the other thing that captivated us all month is the historic run in the playoffs and World Series by the Houston Astros.
Monday – 10/2/2017
Las Vegas – Another Lunatic Ruins Innocent Lives
More horrific news from another US city. 64 year old Stephen Paddock killed 58 people and wounded hundreds more late last night in Las Vegas. His soulless act is now considered the deadliest mass shooting in US history. Perched on the 32nd floor of the Mandalay Bay hotel on the Strip, Paddock fired fully-automatic assault rifles at the audience of a country music concert across the street…more than 300 yards away.
As of this writing, more than 50 people are confirmed to have died in the attack and 500+ are injured. The disgraceful coward took his own life before cops blasted the door of his room. He had more than a dozen guns in that hotel room and several more back at his home in Mesquite, Nevada.
Friday – 10/6/2017
Trouble Writing
I haven't been able to write much in the last couple of weeks. Part of the problem is that I haven't been riding the train lately. The ride to and from Deerfield Beach every morning usually allowed me to think clearly and work on post drafts. But due to a complex scenario with our cars, I now have to drive to and from work every day.
But aside from that, even with some solid periods of time when I'm free to write, I'm still having trouble putting my thoughts together. I have at least four posts that I've been working on for weeks. And even though the number of words on the posts is increasing, I have little confidence in what I'm writing. In some cases, I'm not even sure what I'm trying to say.
I subject my writing to a level of perfectionism that I don't really apply to any other part of my life. I may pile dishes in the sink, allow clutter to accumulate on my desk and I may wear wrinkled clothes. But I absolutely refuse to publish a post that I'm not happy with. And even among those that I post, I'm never completely satisfied with them.
Saturday – 10/14/2017
Goodbye Big Red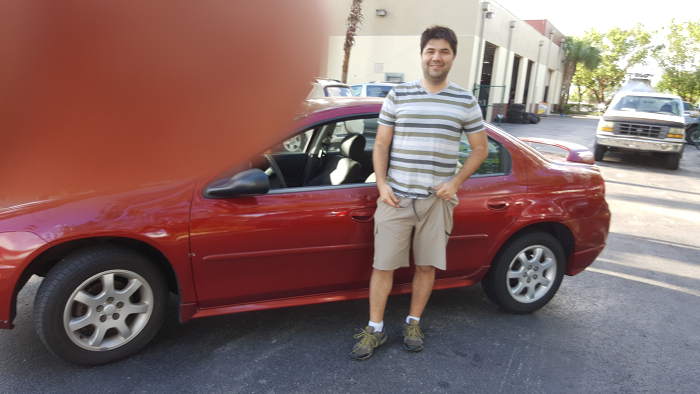 That's me and my car behind the finger. These were my last moments with Big Red, the fun, reliable Dodge Neon that I've been driving for the last 9 years. The finger belongs to the guy who bought it.
I wrote all about Big Red in one of my recent posts (link). As the tow truck carried it away, I got emotional as I knew I would. It's red paint was glistening under the Saturday morning sun and its sporty tires seemed ready for a long trip. It felt like I was saying bye to a buddy who was loyal to me for a long time.
But there was no way for me to justify keeping it. It's timing belt was broken and the repair would've cost more than $1000. And even if I had done the repair, it would still be a 13 year old car that would likely break down again soon.
I tried to sell it on Craigslist for $500, but there was little interest. Eventually, a fast-talking Cuban from Miami offered me $200 for it. I accepted the offer just to bring this story to a close.
Sunday – 10/15/2017
Busy Day
Today's going to be one of those busy days that is filled with all kinds of activities to prepare for our baby. If our home isn't completely ready for him, I don't think he would complain. But his mother, on the other hand, would not be happy. So today I'll buy some shelves and a vanity and install them. We also have some window blinds that I need to install. We have clothes to wash, groceries to buy and probably several more tasks that I haven't noticed yet. I wish I could hole myself up somewhere and work on a few of my projects, but those projects are simply not the main priority right now.
Astros Up 2-0 in the ALCS!
The Astros pulled off a couple of amazing wins on Friday and Saturday. They didn't score their usual high numbers of runs and didn't get many hits. But the two runs they got in both games were enough to beat the Yankees because of the remarkable pitching of Dallas Keuchel and Justin Verlander. Verlander pitched all nine innings last night. I can't remember the last time I saw a pitcher throw a complete game. He was still throwing 96 mph fastballs and well-placed pitches in the 9th inning. So glad we got him from the Tigers.
A Visit from My Mom
I was super blessed to have my mom come into town last week. She spent a lot of time bonding with Aniela and my mother-in-law, which really means a lot to me. On her last night with us, we took her out to The Cheesecake Factory in Las Olas. With a baby on the way, our topics of conversation often drift to pregnancy, birth and how to raise children. So my mom told us lots of stories of how she raised us. She filled in a lot of gaps in my memory with the details of her career.
The grandparents on both sides didn't speak much English and didn't have much experience in corporate, white suburbia. So suburban life was entirely new to my parents. They just figured everything out along the way. And although I knew we didn't have much money, I was always in my own little world and didn't feel any of the hardships my parents were facing. I couldn't have asked for better parents.
Second Set of Parents
In addition to them, my brother and sister, who are 6 and 5 years older than me, were like another set of parents. They looked after me while our folks were out at work. Meanwhile, I played outside like it was my job. I was often dirty, smelly and sunburned. I felt absolutely secure in my our home and I didn't think twice about whether or not I was loved or accepted. That security gave me the confidence to play my little games, to imagine, to write and do whatever I wanted to do. I sucked really bad at school thought.
Maybe I should write an autobiography one day. I'm not sure who would read it. And I don't know if it would be interesting enough for anyone to read. But with my baby due in just a few weeks, I think I'll soon have some great stuff to write about. I can't wait to meet him.
Thursday – 10/19/2017
Ugh These Astros 🙁
Astros are now down 3-2 in the ALCS after the Yankees suffocated their offense with excellent pitching in games 3, 4 & 5 in the Bronx. The series now goes back to Houston for Game 6, an elimination game. And if they pull off a win, they'll play a decisive Game 7. Go Astros!
Sunday – 10/22/2017
OMG these Astros !!
The Astros beat the Yankees in games 6 & 7 in the ALCS in Houston to advance to the World Series against the Los Angeles Dodgers! The Astros allowed only 1 run in the two games. Credit to the excellent pitching of Justin Verlander, Charlie Morton and Lance McCullers Jr, plus great defense. Wow it's gonna be an incredible World Series. The Dodgers are really good with strong hitters from top to bottom in their lineup. They also have great pitchers and a deep bullpen. Can't wait! So excited. Go Astros!
WORLD SERIES BOUND. #EARNHISTORY pic.twitter.com/CWxvYGyQX0

— Houston Astros (@astros) October 22, 2017
Thursday – 10/26/2017
What a game! Astros tie the World Series at 1-1 in Game 2 Classic
The Astros beat the Dodgers last night in one of the most intense, gut-wrenching games I've ever seen. Going into the 8th inning with the Astros down 3 to 1, my hope of them winning was pretty bleak. The Dodger pitchers had been unhittable in Game 1 and the first seven innings of this game.
But then Correa knocked in Bregman to make it 3-2. Then Marwin Gonzales hit a solo HR to tie it at 3-3 in the 9th. Dodgers' first-baseman Cody Bellinger was only a few feet away from pulling off a walk-off HR in the bottom of the 9th, which would've been absolutely devastating. But it ended up as just a long fly out.
Both Altuve and Correa hit solo home runs in the top of the 10th, giving the Astros a 5-3 lead. I celebrated and jumped around like a crazy person, as if a two-run lead would be enough to secure the win. It wasn't. Yasiel Puig homered in the bottom of 10th and Kike Hernandez drove in another run for the Dodgers to re-tie the game at 5-5.
On to Houston!
George Springer officially ended his postseason slump in the top of the 11th with a 2-run homer to dead center, which gave the Astros a 7-5 lead. But then the Dodgers homered in the bottom of the 11th, making it 7-6. Yasiel Puig came up to bat again with two out. He and reliever Chris Devenski were locked up in a 3-2 count. After a couple of nervous foul balls, Devenski finally struck him out on a pitch that would've been ball 4. What a relief!
Wow, what a difference it makes for the series to go back to Houston tied up instead of being down 0-2. Aniela didn't understand why I was so nervous. She said this particular game was "non-essential." I tried to explain that a team's chances of winning a series go down dramatically when they start 0-2. I love how she's getting into these games. She's never watched baseball in her life, so she's still figuring out the basics. Go Astros!! Can't wait for Game 3 in Houston!
It's been a long wait for the Astros' first World Series win. pic.twitter.com/jxhsBE66YT

— Dan McLaughlin (@baseballcrank) October 26, 2017
Happy Birthday, Ms. Bell
Today's my sister's birthday. We call his "Ms. Bell" for reasons that I don't want to explain. But anyhow, she's always been my awesome sister. She shares a birthday with Hillary Clinton, who concluded last year on this date that it was safe to assume she would win the election:
Happy birthday to this future president. pic.twitter.com/JT3HiBjYdj

— Hillary Clinton (@HillaryClinton) October 26, 2016
Y'know, I can't blame her. Around this time last year, I was just as convinced as everyone else that she was gonna roll over Trump in the general election. And I was just as stunned as everyone else when he beat her. But still…it's one thing to think you're going to win the presidency. It's another thing to publicly presume it's a done deal.
But I digress. Today's my sister's birthday and I hope she likes the Pink Floyd t-shirt I sent her 🙂
Friday – 10/27/2017
Take It Or Leave It
I wrote a post last night: Man Reflects Deeply on Insulting Facebook Comments. It's another satirical attempt at humor which I think is clever (obviously…I'm the one who wrote it, after all). But in all likelihood, most of my friends and family members will either not understand it or will simply not like it. In fact, I was reluctant to post it on Facebook because I didn't want to have any awkward conversations about it.
I fell asleep last night around 8:30pm and woke up around 3:30am. I was exhausted from my 3-mile jog on Wednesday. But as I laid there in the darkness, I looked at my phone and noticed that no one had liked or commented on the post, which means that lots of people saw it and either didn't like it or chose not to read it.
Now, I do appreciate that the followers of my page don't automatically click Like on my stuff when the truth is they didn't really like it or didn't actually read it. I don't want anyone to do that. But at the same time, I always hope they would have an open mind and take the time to read my posts.
Stand By Your Writing
So I was feeling pretty insecure early this morning about this post which got zero reactions. I even thought about deleting it altogether. But after thinking about it more, I'm just gonna leave it as is. I'm not going to second-guess the stuff I write. I felt strong enough about the concept in the first place to write the post, which took some time and effort. I'm just going to leave it there for the one or two people who may find it and appreciate it in the future.
Stand by your writing. If most people don't like it, that's fine. They can take it or leave it. But if the content means something to you, leave it there for your own sake. If you're paid to write stuff that people are going to like, well that's different. But if it's your site and you're free to write whatever you want, stand by it.
Saturday – 10/28/2017
Ken Giles and the Astros Blow Game 4 of the World Series
The World Series is now tied up at 2-2 after terrible performances by the Astros offense and "closer" Ken Giles. He was brought into the 9th inning with the game all tied up at 1-1. That was a big mistake. Chris Devenski should've stayed in to pitch another inning because Giles was clearly rattled and unable to throw good pitches. I think manager AJ Hinch was trying to restore his confidence or whatever. So now we have to beat Clayton Kershaw tomorrow night in Game 5, which won't be easy. And then we'll have to play Game 6 in Los Angeles. So disappointed in that loss. Charlie Morton, Will Harris and Devenski pitched such a great game for 8 innings.
Anyways, what's done is done. Let's just hope for the best in Game 5. Speaking of Game 5 in the World Series, here's the national anthem sung by Smokey Robinson before Game 5 in 1986, the best rendition of the song I've ever heard. What a moment;
Tuesday – 10/31/2017
Tonight's the Night: Game 6 of the World Series
Game 5 on Sunday night had to be the most intense, most amazing baseball game I've ever seen. It lasted 5 hours and 20 minutes. The Astros came back from a 4-run deficit, then a 3-run deficit and then a 1-run deficit. After all that, they took a 3-run lead into the 9th before the Dodgers evened it up at 12 runs apiece. And then in the bottom of the 10th inning, Alex Bregman lined into shallow left-center, enabling pinch runner Derek Fisher to come home from 2nd. It was gut-wrenching and exhilarating at the same time.
I watched the game on TV, but was also following it on Twitter and the ESPN Gamecast. They were both ahead of the TV broadcast by a few pitches, so I already knew what was going to happen before I saw it on TV. This is basically how I had to do it. It was simply too nerve-racking for me to wait for each pitch on the broadcast. The tension and suspense had my heart racing, especially when the Dodgers were batting. Walking around the room and taking deep breaths wasn't helping. Towards the end, even the Gamecast was too stressful for me. My goodness…the thrill of victory and the agony of defeat are such a real thing.
11:45pm – Astros Lose Game 6 of the World Series
Well, the Astros had their chances tonight but they ended up losing Game 6 by a score of 3-1. They had guys on base but just couldn't bring them around. Verlander gets the loss, his first as an Astro. They'll have another chance tomorrow night in Game 7. Lance McCullers will be pitching. It's been an amazing series and it's gonna be a heartbreaker for whichever team loses it. But without a doubt, both teams have demonstrated that they're truly the best in baseball and I can definitely see one or both of them returning to the World Series in the next few years.
Aunt Stella
We got the unexpected bad news today that my aunt Stella died sometime today. She's my dad's sister. She lived on the north side of Houston with her husband and son. We still don't know how she died. We spent a lot more time with her when I was very young. She had a very hard life and it's comforting to know that she's in a better place now, free from all the burdens she faced here on earth.
Journal October 2017
Journal October 2017, Journal October 2017, Journal October 2017, Journal October 2017, Journal October 2017