Joe's Journal March 2018
Thanks for reading my online journal. March 2018 turned out to be a monumental time in my life. I was busily working on one set of plans when everything suddenly got turned upside down by an excellent job offer in Houston. In the middle of all the frenzy, I traveled to Denver for the WQA Convention.
Monday – March 5, 2018
4 weeks ago, my brother shared a training with me that he'd signed up for. It's all about buying and selling products online…only in the reverse order…you don't actually buy the product until you've sold it. I went through all of the training that evening and I've been busily working to implement it ever since then. Everything else has taken a backseat. I haven't written any posts lately and only minimally updated my February journal.
Most disappointing of all is that I haven't been to the gym in these last 4 weeks. I had (and still have) some pain in my left shoulder. Plus, I got sick for a week, which totally threw me out of my gym routine. I was doing so good and feeling so good! I'll get back it as soon as things settle down.
I don't need hindsight to see that this is a critical time in my life. The decisions I'm making right now will have major implications for years to come. There are two paths in front of me right now and I'm running as fiercely as I can on the harder path. I can't get into the details of these two paths without disclosing some things that I need to keep a secret.
Anyhow, sorry to get all vague and dramatic. But I simply know that I don't have much time to make these plans work.
Tuesday – March 20, 2018
Unexpected Developments
Well it's certainly been an interesting couple of months lately. I haven't written or posted much of anything recently because there are so many consequential issues in the details which I'm not allowed to share yet. But I'm getting the feeling that everything's about to change very quickly in a big way. Just 24 hours ago, I became aware of an incredible opportunity which I'm already inclined to accept. The details are still being worked out. I'm taking an important trip tomorrow and I'm hoping and praying for God's wisdom and guidance to make good decisions.
This development is on top of other developments which I briefly wrote about on 3/5. Unfortunately, I can't go into those details either. It's just been a fast-paced, secretive, life-changing month so far…and I'm getting the feeling that the biggest change of all is right around the corner.
Wednesday – March 21, 2018
Houston
I'm trusting you, Lord. I'll take the steps but you decide their direction. Please give me the words to say and make it clear what I should do. Lead me to whatever you want me to do and to wherever you want us to be. This opportunity gives me the unmistakable sense that you're doing something that is beyond me and my abilities. It feels like answered prayers. We're all very excited about the possibilities. We're daring to hope and make little plans already. I feel prepared and ready for this. But as always, I'm depending on your favor, leaning on your grace. Your will be done, amen.
Thursday – March 22, 2018
Well, I guess this is really gonna happen. It's all very sudden and the transition will have to happen very fast, but it looks like me and my little family will soon be moving from Florida to my hometown of Houston, Texas. I'm supposed to start a new job there on April 9. I can't even believe it yet.
Everything's about to get really interesting (and fun 🙂

— Joseph Gonzales (@joseph11ag) March 22, 2018
Friday – March 23, 2018
Two Weeks Notice
I gave my two weeks notice to my boss today. It was honestly the one thing I dreaded the most in this whole transition…not the packing, not the 1,200-mile drive, not learning a new job or finding a new home. It was this one conversation. I learned a lot at this job…and I certainly wouldn't be ready or qualified for this next job had I not worked here. It came at exactly the right time when I needed it most. It's been a tremendous blessing for these last four years.
There are a few ways in which I plan to stay connected to my current employer. The main way is to start selling their products. I will be selling the water filter products they manufacture in my newly-established business.
Oddly enough, leaving the company simultaneously makes it easier and more difficult for me to sell their products. My plan for the last several months was to continue working there while I established my business. My close proximity to the products would be my big advantage. Nothing would have to be shipped to me, thereby preventing shipping costs. Now I'm that I'm moving to Texas, I lose that advantage. Anything I buy from the company will have to be shipped to me in Texas. I knew this would eventually be the case. But I was simply planning to make that transition at a later time when my business is more established.
No Restraint
However, the positive thing about my move is that there's no longer any conflict with me trying to sell the products of the company I work for. This has been a sticky issue since I originally proposed the idea to my boss. He expressed a very legitimate concern that selling the company's products would put me in direct competition with the clients of the company…clients whose accounts I personally maintain.
I validated those concerns, but offered many genuine assurances that I would in no way misuse my access to our clients' info. In fact…even if I wanted to misuse the access that I have, I can't think of one sinister thing I could do with their info. All I know is what they order. I have no access to their lists of clients or any other sensitive data.
Anyhow, it's all a moot point now. The first week of April will be my last week there. And then I can sell any products I want with no restraint whatsoever. One big boost towards that effort will be the trip to Denver that I'm taking next week. It's the annual convention of the Water Quality Association where manufacturers and distributors showcase their water products. This trip has been on the calendar for a long time. It's a little inconvenient now that I need to start getting ready to move. But I gotta go. It's going to be a very rewarding trip.
Monday – March 26, 2018
Denver
Aniela dropped me off at the airport. I carried my backpack and pulled my suitcase. However, I unfortunately forgot the the windbreaker jacket that I specifically bought for this trip to Denver. I simply left it in the car. So then I landed here in chilly Denver without a jacket.
Fortunately, before my Uber driver took me to my hotel, he took me to a Walmart just before it closed so I could buy a jacket. He waited for me in the parking lot with all my stuff in his car. I gave him a great tip. Oddly enough, the Walmart had no jackets or coats! I asked them about it and they said they had already discontinued their winter clothing. I was like "whattt???? It's freakin' cold outside. It doesn't matter what the calendar says. This is Denver!!"
I had to settle for a light fleece. It's not a coat, but it made a big difference this morning on the golf course. I'm no golfer. I was there for work, a charity event. After a few minutes of riding around on the golf cart, the wind chill went straight to my bones and I was done. I went to the warm clubhouse and drank hot chocolate.
WQA Convention & Exposition
From there I went to the Colorado Convention Center to set up the booth for Wishing Well International Foundation.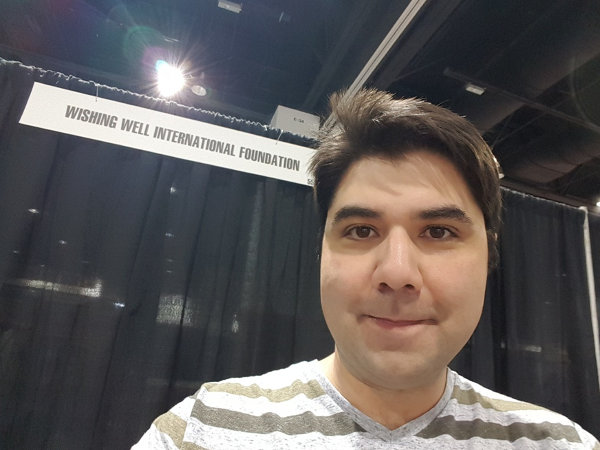 It's a bittersweet experience to be at this show. In 2015 and 2016, this convention was difficult and frustrating. I didn't really know what I was doing. But ever since I got the idea to start selling water filters in my own business, being at this show has become very important. Everything I could ever want to sell is under that roof. I'm very confident about the marketing side of selling the products. But there's still a ton of product knowledge that I lack.
For the record, I do know a lot and I'm certainly qualified to sell water filtration products. But it's just one of those things where the more you learn, the more you realize there's so much more to learn. This will likely be the last time I attend this show, so I'm determined to get as much out of it as I can.
Thursday – March 29, 2018
Back to Florida to Prepare for Texas
I'm on a red-eye flight from Denver to Fort Lauderdale. I thought I had planned this well. I specifically paid extra for a window seat so I could be asleep right now, but I'm wide awake and super uncomfortable. Writing in this journal is the most productive thing I can do right now because I certainly ain't sleeping anytime soon.
My time in Denver was very rewarding, but also quite sad. I'm leaving the water industry just at the moment when I finally have an idea of what's going on. I could certainly make a successful career if I stayed at my current employer and continued in my current role. The timing, however, is not good. The new job in Houston, as I mentioned before, is too good to pass up. I had to take it. And if I can successfully get some sales traction for my water filtration business, I can possibly keep one foot in the water industry while working at the new job. That would be the best of both worlds.
I ate at some fancy restaurants this week. I had never been to a Brazilian steakhouse before, so our dinner at Fogo de Chao on Tuesday was an unforgettable experience. Earlier tonight, we ate at Panzano in downtown Denver. The food and the classiness of the place were amazing. And it was snowing outside, which added to the cozy ambiance of the place.
So you can only imagine how unpleasant it was to go from that restaurant to a hurried TSA security line at the Denver airport. I barely got there in time and the lines were super long. It was like a cold splash of water to the face while you're cozy in a warm bed.
But anyhow, I can't complain. We're flying through some turbulence over Tennessee and I'll be home in just a little while. Thank you Lord for all these safe travels.
Friday – March 30, 2018
My mom flew back to Texas today after being here with us for two weeks. The timing was perfect. She and my dad were both here when I got and accepted the new job offer. They're ecstatic. And she was also here with Aniela while I was away in Denver. I really hated being away from Aniela and Abram for those few days, but my mom made things a lot easier by being here. They already started packing the house. Thank you Lord for my wonderful parents and for getting them home safely.
Saturday – March 31, 2018
Aniela just broke the big news to her friends and family on Facebook.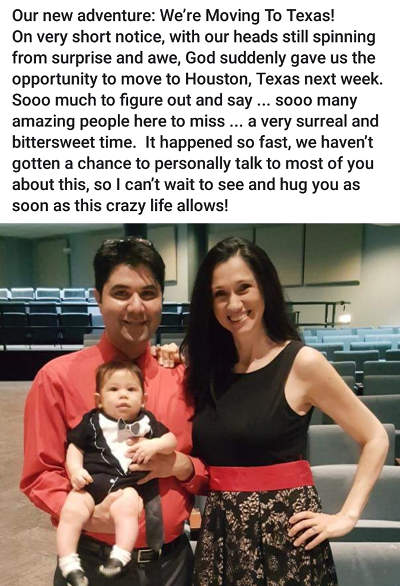 I still need to finish up the post I'm writing in which I get into the details of the move. All this dust is literally and figuratively in the air. With all the boxes and all our moving, she hasn't had much time to process how big of a move this is. She's just focused on the next things that need to happen. Whatever she goes through, I'll be there for her.
Well, March is over and the beautiful month of April is upon us. Tomorrow is Easter Sunday, the day when we celebrate the Resurrection of Jesus. Thank you Lord for an amazing, life-changing month. Please be with us always. Keep us safe and never let us forget to honor and bless you in everything we do, amen.