Wednesday – June 5, 2019
I'm going to make a more earnest effort to consistently write in these journals. I originally set out to create a new journal for each month. And I had done that pretty consistently until this year started. I didn't make one for April or May…and I contributed very little to the one I created for March. So now I'm beginning this new month with a fresh new effort.
It's very important to me that I add something here every day…even if it's just a simple rundown of what I'm doing or thinking that day. I really don't like for large periods of time to go by and I have no record or recollection of what happened during that period. So to help me remember the journaling task, I created two daily reminders in my calendar – one at 10am and then another at 3pm – which simply remind me to write something here. I'll get the notification on my phone and that'll prompt me to do it.
Also, in order to simplify these posts, I won't do any further search engine optimization for these journal posts. Nor am I structuring the text of this post with any regard for SEO. It just doesn't make any sense to do so. No one is doing any kind of search for journal posts like these. And even if they were, there's no clear way for to optimize them to give them a better chance of being found. So this sorta liberates me to simply write whatever and however I want to. And that's important because all the SEO stuff takes a lot of time.
Bottom line…you're only here because you either know me or you're interested in my writing for whatever reason. In any case, I'm flattered. I'm certainly glad that you and others are reading this. But even if you didn't, it's the writing itself which benefits me, to be perfectly honest.
Thursday – June 13, 2019
I recently wrapped up a woodworking project and a couple of posts in the last two days. This green table below was supposed to be a simple project that would hold plants in the backyard. It ended up becoming a little too nice for such a dirty role, so midway through the project, I did my best to make it good enough to sell. This post is the story of that table;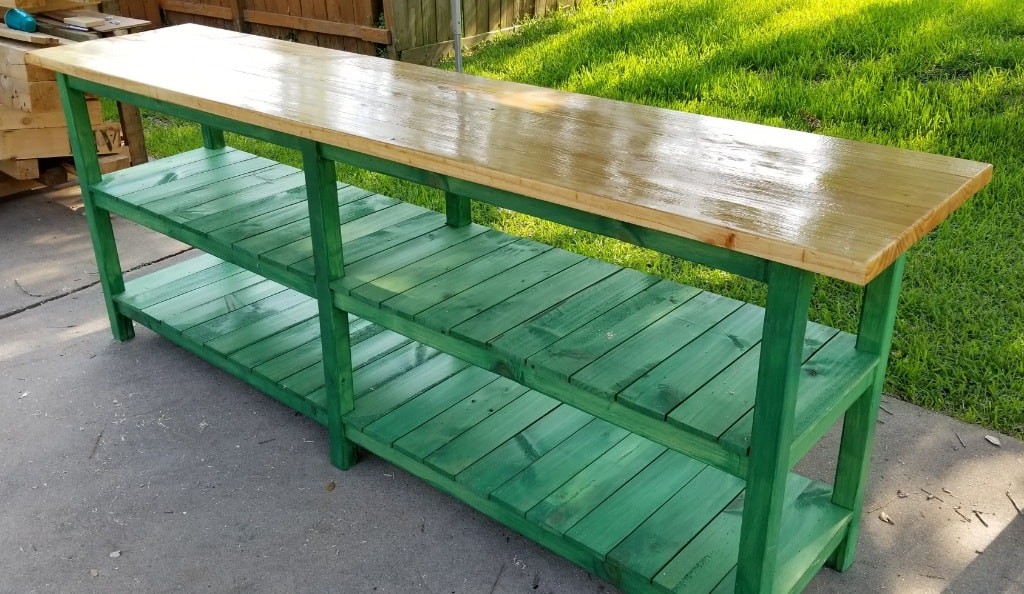 Hopefully I can get it sold this month. It takes up a lot of space.
After that, I published another post about all the new 2-letter words that are now playable in Words With Friends. I realize it may seem strange that I've written so many times about Words With Friends. I do enjoy playing the game, but that's honestly not the reason I keep writing about it.
The real reason is SEO. The thing is…for the last couple of years, I've gotten a ton of traffic to this website because of a post I wrote in 2016. At the time, there was a rumor circulating that WWF was going to include a controversial new feature in which you could swap your tiles for new tiles without losing your turn. That's a fundamental change to the game which some people, including myself, consider cheating.
Well that feature eventually went into effect and lots of people started to seek information about it on Google. And since I'd written such a lengthy, detailed post on that exact subject when no one else had, I started to rank #1 in the search results for that topic. Even now, dozens of people visit my website every day for that old, outdated post.
So from that point on, I figured that if I could accidentally generate a lot of traffic to my site with a good post, then I could also do it purposely. So that's what I've been trying to do with all my WWF posts. Not only are the posts fully optimized for search engines, but all those posts link to each other, which further boosts their search engine rankings. It's still a very challenging endeavor. But the key to getting better at it is to keep on writing, optimizing and posting until you get really good at it. Here's my latest WWF post: