Thursday – 8/31/2017
Horrible Harvey
I'm so proud of my hometown of Houston for the way it has united and handled the crisis of Hurricane Harvey. Houstonians and Texans all throughout southeast Texas have shined as a bright example of the best of humanity. As of this date, more than 21 trillion gallons of water have fallen in the area. To put that into perspective, consider that Hurricane Katrina dumped 6.5 trillion gallons. Harvey has broken all of the national flooding records. More than 50 inches of rain fell in the hardest-hit areas. Millions of people have been directly affected and everyone else in the area will indirectly feel the impact as the city rebuilds.
With the utmost sympathy for those who have lost everything, I'm so thankful that my parents in Katy have gotten through this hurricane with no harm to themselves nor any damage to their property. It would've been devastating for us if their house had been ruined. My wife and I had been planning to fly there tomorrow 9/1, but all flights in and out of the Houston airports have been cancelled.
Sunday – 8/27/2017
Hurricane Harvey Devastates Houston
It's been a dreadfully wet weekend in Houston. Hurricane Harvey is moving very slowly, dumping unprecedented amounts of rain all over the city. At least a couple of deaths have already been reported and the property damage is sure to be several billion dollars. And even as I write this, the rain isn't letting up. There's even talk that Harvey may come back around and pour more water on Houston. There's simply nowhere for the flood waters to go but up. My hometown of Houston is nicknamed the Bayou City and it's always been vulnerable to flooding. Once its bayous and reservoirs are filled up, the water levels just keep on rising.
Strange and ironic to be in Florida worried about a storm that's somewhere else.

— Joseph Gonzales (@joseph11ag) August 28, 2017
My parents' home on the west side (Katy) is ok at the moment. Some of my friends' homes are already flooded as the rain keeps coming and the water keeps rising. The local CBS station, KHOU Channel 11, is totally off the air. Their lobby looks like a lake.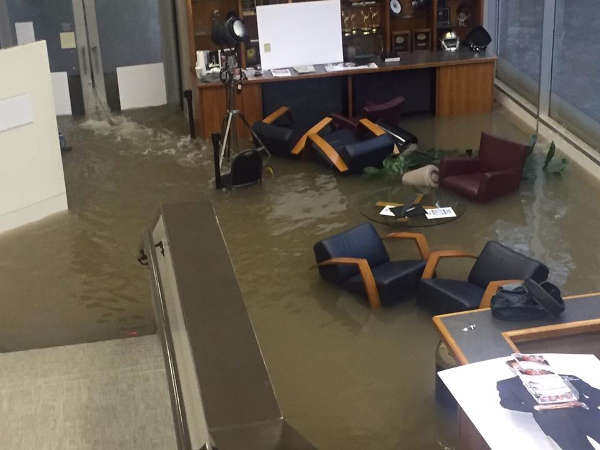 Friday – 8/25/2017
Here Comes Harvey
I'm getting more and more concerned about Hurricane Harvey. It's coming ashore tonight in Corpus Christi. My family's in Katy, west of Houston and they're getting ready to take the hit. Hurricane Ike took Houston by surprise in 2008 and caused a lot of damage. The stores had empty shelves for weeks. So the city is perfectly aware of what this upcoming storm could mean.
My wife and I are supposed to go to Houston next week, so that trip may be in doubt. We'll see. Hopefully this will be a quick dump of rain and then it'll quickly dissipate.
Thursday – 8/24/2017
JAG Marketing & Media Managment (JAGMMM) is my new business and https://jagmmm.com is the new website I recently made for it. It's a very simple setup. I wrote all about it here. I also published the first post on the new site; If Your Employees Don't Seem to Care, It's Because They Don't. It's basically some tough advice for bosses who don't know what to do about employees who aren't motivated to work.
Tuesday – 8/22/2017
Learning New Skills
Lately I've been learning some new SEO skills on the side for my websites. This is a long overdue development for me. I took a course on Skillshare (link) which goes in depth on how to use the Yoast SEO plugin on WordPress websites. It's widely recognized as a must-have plugin to help you make your website "search friendly" for Google, Bing, Yahoo and other search engines.
SEO has been an elusive mystery for me for many years. I always knew it was important to do, but I never understood how to do it. And even if I had learned to do it years ago, it's one of those things that must continuously be relearned. It's constantly changing. Years ago, meta keywords were really important. These days, it's all about inbound and outbound links. I barely know what I'm talking about here.
Even still, there's so much about SEO that I don't understand. But I know I've made some big progress. I created a new post on the website of my language instruction business. Here's the post (link). It's a fully optimized post for the key phrase Spanish Classes in Austin. It should be fully indexed in the next couple of days. After that, it'll hopefully appear in the first page of results when someone searches for that phrase on Google.
Regarding my new post on my language website, the fact that I've linked to it from this post is going to have a positive SEO impact on that post. This is apparently a never-ending goal for web developers…getting other websites to link to your website. At the very least, I can certainly link back and forth between my own sites. And I can definitely blast my posts and links all over social media to further legitimize my content in Google's eyes.
Sunday – 8/20/2017
Another busy day of preparing our house for our baby boy. I put the crib together. So now the baby room has a dresser, the crib and a comfortable recliner. It's not a big room, so our options are limited in how we can arrange everything. But anyhow, the room is now functional and presentable.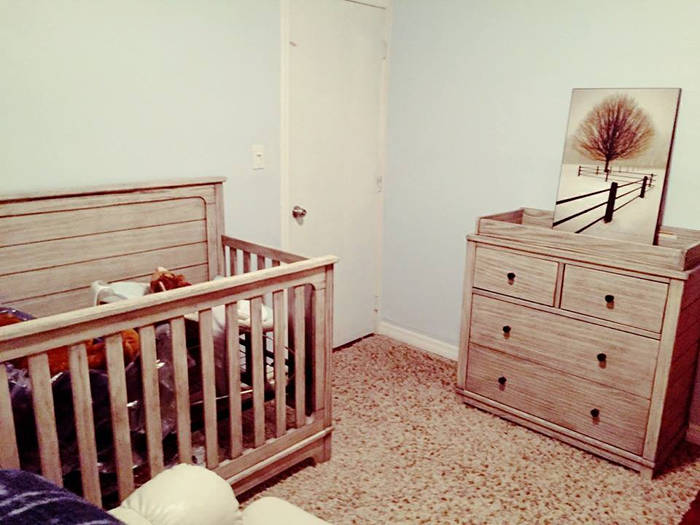 The overhaul of the house was made possible by our friend Cristina, who basically gave up her entire weekend to help us reorganize everything. We're very thankful for her time and energy. She's got a real gift for organizing spaces. She's helped us in this way on many occasions.
Our house isn't very big, but Cristina mentioned that her sister's family (including four kids) is living in an apartment that is roughly the same size. That really put our situation into perspective. Our house would be considered spacious in many other parts of the world. My wife is ok with the space we have, but it absolutely must be clean and neat. Otherwise it stresses her out.
It's been a real challenge for me to keep up with this standard. I also like my home to be clean and tidy. But when time is limited, which is most of the time, cleaning up is never my preferred priority. But to my wife, it's priority #1. So you can imagine the "healthy discussions" we've had about this subject.
Ironically, cleaning around the house is a passive activity which often helps me to clearly think about my writing projects. As I wash dishes or fold laundry, my subconscious continues to work on a post that I've been struggling to write. During these mindless chores, it often seems the ideas and words come together by themselves. This method has proven to be more effective than sitting at the computer and forcing myself to concentrate on the post. That hardly ever works for me.
So, it is here in this journal where I'll confess the selfish truth; my efforts to clean up the house are not always a self-sacrificial gesture to keep my wife happy. But rather, they're my secret way of clearing my mind so I can make progress on a post. I really don't think my wife cares about my motivation for cleaning. She just wants me to do more of it…for her sake, for my sake, to cure writer's block…whatever.
Anyways, I certainly do appreciate that she keeps our home so nice. And it's a darn good thing I didn't marry someone like myself who doesn't care very much about tidiness. You've been to the homes of these couples…it's not good.
Well, it's been another busy, productive weekend of preparation. Thank you Lord for our clean home and my healthy wife and baby.
Saturday – 8/19/2017
Happy Birthday to my big brother Raul!!  and also Bill Clinton
Yeah they have the same birthday. And my sister has Hillary Clinton's birthday….pretty weird coincidence huh?
Anyhow, today was a busy day. My baby boy has yet to take a single breath, but he's already causing me to lose my Saturdays. Just about every moment of this day was spent preparing for him in one way or another. It all started with a HypnoBirthing class this morning for Aniela and I. I'll write more about it some other time…really interesting stuff. It's made me aware of how unnaturally we do birthing in this country. All these birthing mothers are put into fearful, stressful circumstances which make labor much harder than it needs to be.
Then we came home and I assembled a dresser that has a diaper-changing section on top of it. That took all afternoon and left my hands and fingers hurting. But then I had to reconfigure a cabinet in the living room. I lowered the clothing rod and added a new shelf above it. All my clothes are in that cabinet…yes, in the living room. I pretty much lost ownership of our second bedroom, which had unofficially been my office. It's now the baby's room and I had no choice but to get all my stuff out of it. For about 30 seconds, I tried to make the argument that it didn't have to be that way. But that fight was clearly going nowhere so I gave it up and moved all my stuff out, including my big blue desk.
I really miss having a quiet room to work in. I like to put in my earplugs, which drown out all the noise, and just get stuff done…write posts, work on websites and other projects. Now I have to contend with all the noise in the living room. It really makes it difficult for me to concentrate. But whatever, no complaints. I'm excited to have the baby coming. I don't think we'll be living in this house around this time next year.
Thursday – 8/17/2017
An Interview with Yoda?
I started writing a new post yesterday about Yoda from Star Wars. It's a fictional account of my opportunity to interview the wise, old green creature at his home in Dagobah. In the interview, I ask him about the recent racial tension in America and other issues. I'm not sure where I got this idea, but I like the originality of it. Everybody's writing about the recent clashing of the Alt-Right and Antifa these days and so I just wanted my post to stand out from others.
If you'd told me when I woke up yesterday morning that I'd be doing research on Yoda and writing about him later in the day, I certainly wouldn't have understood why. I'm not a big fan of Star Wars. I appreciate its allegories and the deep truths it touches on, but I genuinely cannot understand its massive cult following in our culture. Yoda, however, is pretty cool and amusing. At the moment I'm somewhat stuck in the writing of the new post…trying to decide what direction to take it. But much of it is already written and I think it should be a good one.
Wednesday – 8/16/2017
Getting Ready for My Boy
I went to the gym yesterday evening for the first time in a long time. I went again earlier this evening and did a full workout on the rowing machine that will surely have me sore tomorrow. But this absolutely has to happen. I must get in shape again. I did so well late in 2014 before my wedding, but it all fell apart in April of 2015. I went on a trip to Las Vegas for work, got sick and simply let go of the gym routine after that for some reason. If I had known at the time that I was going to stop going to the gym, I would've cancelled my membership right then and there. But no…like a dummy, I paid for a gym membership I hardly ever used for the next two years.
My yet-to-be-named son will be born sometime in November. There will be sleepless nights, lots of chores and perhaps a great deal of anxiety to make sure we're doing everything right. I have to have a lot of energy for all that. I can't be the tired, self-dragging bum that I've been lately. There was a day last week when I literally took 3 naps. THREE! They were very short naps and they gave me the temporary boost I needed to carry on with the day, but that's just not an acceptable routine for an adult.
When I was in shape, I wasn't taking any naps at all. I was getting lots of good sleep at night and I didn't crave unhealthy food so often. I was actually motivated to seek out healthy stuff so that my workouts would be more effective. We'll see how it goes. I absolutely have to keep this up. I have to stick to it for as long as it takes until I get to the point where it's something I want to do. I gotta be ready for my son. Aniela has all the discomforts of being pregnant. So being sore and getting into shape is the least I can do as we prepare for this baby together.
Monday – 8/14/2017
Charlottesville, VA
The thing I've never understood about all these activists, protesters and rioters is that they've reduced themselves to such boring, unpleasant activities in this country where they can literally do and become anything they want. There is money to make. There are businesses to start, vacations to take, products to invent, books to write and families to care for. Yet these agitators have chosen instead to publicly yell and throw objects at each other. There are just so many better things to do with one's time.
A young woman from Charlottesville named Heather Heyer, 32, was killed while protesting the white nationalist event Unite the Right over the weekend. A young guy from Ohio named James Alex Fields Jr., 20, drove a car into a crowd of protesters, killing Heyer and injuring several others. He's facing second-degree murder charges. Both of these lives are now ruined. And for what? There's a lot I can say about all this but it'll have to wait for another time.
Monday – 8/7/2017
Nerdy Word Game Stuff
I sent out an email blast today to those who have participated in the Words With Football League (WWFL) that I created a couple of years ago. Click here to see the email. The WWFL is a league of 32 Words With Friends players who each (fictionally) represent an NFL team. My team has been the Houston Texans for the first 3 seasons. I follow the real schedule of the Texans. When they play the Jacksonville Jaguars on 9/8, I'll play a game of Words With Friends against the guy in our league who represents the Jaguars. After that game, one of us will be 1-0 and the other 0-1. We play the entire football season in this way, followed by playoffs and a championship game.
This upcoming season is our 4th. I had some reservations about doing it this year because I'm going to be really busy with the baby and a few other projects. But I figured it would simply bother me too much to not do it. It's become a fun little league and everyone seems to like it. I get to write lots of silly articles about it and it keeps me in touch with all the WWF players. The word game community I associate with has become very important to me over the last couple of years. I've never met anyone from the community in person, but the camaraderie and fun we have in our chats and our games are truly valuable to me. Is it a little bit nerdy to run a word-game league? Yes it is. But I'm already well past the point of caring about what others think of my hobbies.