Many of my tasks during my woodworking projects don't require any thought. As I cut, sand and stain, my mind wanders onto various topics. The solitude and silence is actually very helpful for clearing my mind and meditating on important things.
Lately I've been building out the closet in our guest room. I'm basically making an office out of it. Last night, I was able to prepare and install a few boards for the shelves in this new office. And once again, during the tranquility of the work, I came to an important conclusion about this project; I couldn't do any of it without my in-laws.
Mia & George
The thing is, my wife's parents live with us. They have their own space on the other side of the house. They're not interested in woodworking. They don't directly help me with my projects at all. But the things they do make it possible for me to do what I do. I'm very aware of this. And I appreciate them very much.
Throughout the day, my mother in law (Mia) is busy with one activity or another. She's usually in the kitchen. She makes big meals which take several hours to prepare. She makes food for her grandson, our little Abram. And she also does a lot of cleaning. It's a lot of work.
Another post you may like:
Of course, my wife Aniela also does a lot of this work. But the key point here is that she doesn't do all of it. That's very important. She and her mom work like busy bees in the house all day. But the fact that they have each other makes it possible for them to take breaks, retreat to another room and rest.
Meanwhile, someone has to keep an eye on Abram. He's a ball of energy and he's always on the move. I suppose you and I would also have a lot of energy if we were able to take regular naps like he does. Anyway, watching over him is no easy task if you're busy with another task. Therefore, this responsibility usually falls to George. He's my father in law, Mia's husband, Aniela's dad and one of Abram's two grandpas.
"Abraming"
George plays with Abram, feeds him and takes him for long walks. We call these tasks "Abraming." Last month and this month (January 2019), George taught Abram how to walk. I saw his progress each and every day. He now takes confident steps across the room. But it wasn't Abram's daddy who taught him to walk. It was his grandpa George.
In addition to all the Abraming that George does, he's very helpful with several other things around the house. He even installed an electrical socket in my new closet office. He also cleans up the big messes I make in the garage. I sometimes work on my projects to the point of exhaustion. When I finally call it a night, I often turn off the lights and leave without cleaning. Tools, sawdust and pieces of wood lie everywhere.
But when I come into the garage the following day, the floor is swept. The batteries are on their chargers. My tools, bits and wood are all organized. That's all George.
If Mia and George were not with us, Aniela and I would surely get the job done. But everything would be much harder and more tiring. We wouldn't get to enjoy the same amount of peace and rest that we have now. Aniela would be tired and stressed. And I certainly wouldn't have time for all of these woodworking projects.
Miserable Parenting
In contrast to the peace and rest we thankfully enjoy, here are a couple of tweets I recently read by a guy named Duncan Jones:
This is where people feel compelled to say "i wouldn't change it for the world!"
But you know… Of course I'd reconsider!
It's exhausting! Its banal! It's like looking after a dog you can't housetrain.
What it is, is that it is.
& they are mine.
Hopefully they turn out ok.

— Duncan Jones (@ManMadeMoon) January 12, 2019
Duncan got a lot of replies to his tweets…some supportive, some critical. I'm certainly not going to judge the man. Aniela and I know how exhausting a baby can be…and this guy Duncan has a baby AND a toddler.
During my 15 seconds of research, I found that Duncan is a film director. He also apparently blogs about his projects at ManMadeMovies.co.uk. That little bit of information tells me several things about the man;
He's the creative type who's often inspired to tell stories.
He has watched many movies.
He blogs because there's so much he wants to say about the topics that interest him.
He's passionate about his ideas and his work.
Combined with his tweets, I can also conclude the following:
It's not easy for Duncan to concentrate on his cool projects while babies are screaming.
Duncan doesn't have much time to watch movies, play video games or blog anymore.
Duncan's not getting enough sleep.
Obviously, none of Duncan's details are any of my business. Again, I'm not judging the man. I actually empathize with him. Instead of saying that I've "been there, done that," I'd say that I'm "currently there, doing that."
However, one big difference between Duncan and I…aside from the fact that he has two babies and I have only one…is that my wife and I have the continuous assistance and support of two live-in grandparents.
And that alone may be the reason I'm currently happy, rested and loving life while Duncan is sharing his parental misery on Twitter.
Grandparents Are Essential
Here's a profound truth I learned in 2018; raising babies requires at least two people. It certainly can be done by two people or even just one. But those scenarios aren't ideal. If the only thing a parent does all day is work, commute, clean, cook, feed and supervise…they'll quickly burn out. And they won't be the positive source of strength that their spouses and children need.
Parents need help. And there's no one on the planet who's more qualified to provide that help than grandparents. They alone have the time, love, incentive and willingness to offer their support. And they're the only ones who will do it for free.
I'm super thankful for my in-laws and I'm glad they're with us. Around this time last year, we all lived in Florida. We had no way of knowing that one fortunate blessing after another would lead us to our new home in Texas.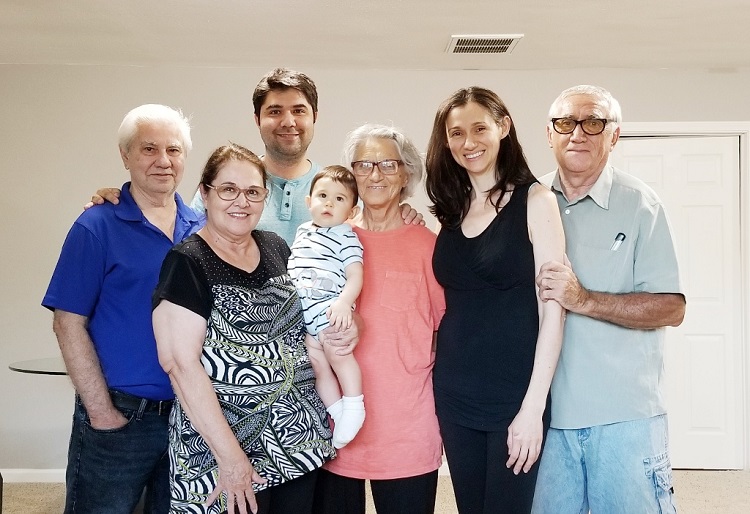 That's Mia, Aniela and George on the right. That's me on the right with my folks, Raul and Yolanda Gonzales. They live on the other side of town. But at least they're no longer on the other side of the country. They come around as often as they can. Just like Mia and George, they would do anything for Abram. They take care of him, which allows Aniela and I to get away and take short trips. We get to breathe a little and do the things that recharge us. And then we come back to the real world, rested and ready to be parents again.
I think this is how parenting was meant to be…not just a mom and a dad struggling to get the job done. Instead, a happy collaboration between parents and their greatest allies, the grandparents.