The courageous social fighters at ESPN declared in a public statement today that adverbs ending in "ly" will no longer by spoken by ESPN anchors nor published in ESPN articles due to their similar pronunciation to the name of Confederate General Robert E. Lee. Adverbs such as "quickly," "actually" and "definitely" are hereby banned by the network.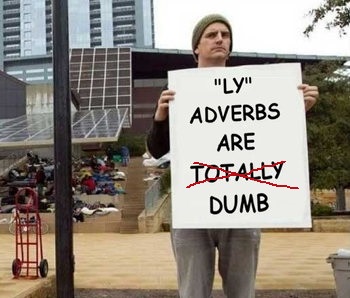 The basis for the ban is due to many people deciding last week that decades-old statues of Robert E. Lee are bad and therefore must come down immediately. The mere mention of the general's name is enough to offend some social activists. In order to prevent this offense, any name or word that remotely sounds like "Robert E. Lee" must be avoided at all cost. Unfortunately, this includes the vast majority of English adverbs.
VP of ESPN programming:
"We realized we might have been offending many people by using these words, so we had to do the right thing and stop using them. It's a small sacrifice for us. Instead of saying 'Lebron quickly pivoted towards the basket,' we'll just say he pivoted to the basket 'in a quick manner.'"
Random angry social activist in the street:
I used to say words like "obviously" and "probably," but now I realize those words are dumb and mean because they make people think of that Confederate Nazi Robert E. Lee."
CNN anchor Don Lemon:
"It's a well-known fact that Nazis and confederate soldiers used adverbs on a regular basis. Knowing what we now know, anyone who still uses these adverbs in 2017 is a bigot. This ban on adverbs was long overdue."
ESPN commentator Michael Wilbon:
"Bottom line…adverbs are racist."
ESPN anchor Bob Ley (pronounced "Lee"):
"I'm offended by my own name. Next week I'm changing it to Bob Kaepernick and then this nightmare will be over."
Some linguists and scholars have defended adverbs ending in "ly" by claiming these adverbs are a neutral part of speech which have no political affiliation whatsoever.
Anthony Goodsense, CEO of the English Dictionary Institute, had this to say:
"This is by far the dumbest thing I've ever heard of. The use of adverbs goes back as far as the English language. There's no rational reason to stop saying them. This is ABSOLUTE-LY illogical and stupid."
Following the above quote, Mr. Goodsense was branded as an "adverb-defending Nazi" by various leftist groups and media outlets. He and his family received numerous death threats because of his controversial comments and they're now in protective custody.
In related news, a sculptor who specializes in Robert E. Lee statues is on the verge of going out of business due to the new widespread hatred of the Civil War general. Warren Freeman says he'll do whatever he's gotta do to support his family and make ends meet:
"I've got a warehouse full of Robert E. Lee statues and now I'm not sure what to do with them. They're all just standing around looking stoically into the distance. I'm thinking of melting them down so I can meet the demand of all these universities who want Che Guevara statues."