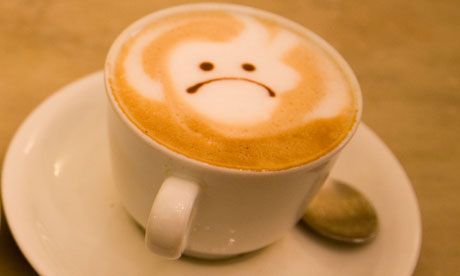 There's no easy way to say this. I was hoping we could avoid having this conversation. But honestly, things just aren't getting any better between us and I'm afraid I can't go on like this…pretending everything's ok. Everything is not ok. My feelings for you are not what they used to be…and I suspect this feeling is mutual. I know I'm just one of your many lovers, so I know you'll be just fine. But I have to think about myself and do what I gotta do. So here's the thing, coffee…gosh this is so hard. But here it is; I've decided to start seeing other beverages.
We had a great run, didn't we? I think it was after college when we started seeing each other off and on at the local café. A friend of mine introduced me to you. I didn't have a job, so I had all kinds of time to sit there for hours and just write in my journal. I had only heard about you. You were like one of those cool people who everybody talks about. But when I finally met you, I understood what they meant. You were even more awesome than I had imagined.
"You made me feel like I could do anything."
I remember those first few cups that we enjoyed together. Oh man, you were so hot! I was mesmerized by your powerful scent. And you were so sweet. I was using way too much sugar those days. But anyhow, you were perfect. I savored every moment. You filled me with inspiration, with ideas, with passion to conquer the world. You made me feel like I could do anything. Your exotic blends melted away my inhibitions and insecurities. You made me come alive. For as long as you were by my side, I had the energy and confidence to do it all.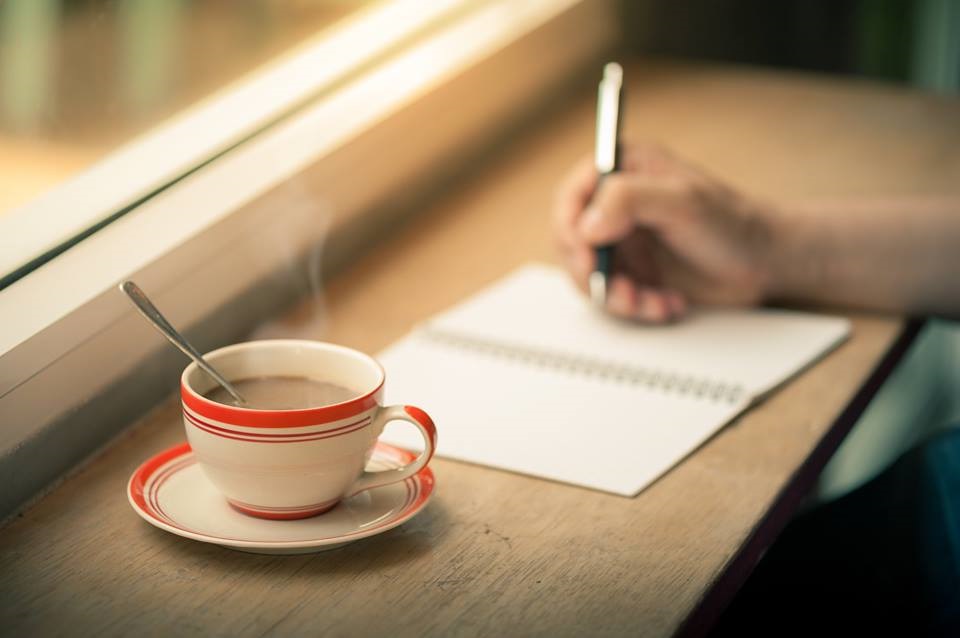 I began to think of you throughout the day, looking forward to the next morning when I would be with you again in our cozy corner of the café. What used to be an occasional visit became an every-morning affair. I showed up everyday to see you. Rain or shine, I was there. And each morning, you were eagerly waiting for me.
I finally got a job, but that didn't hinder our relationship in the least. Instead of our usual time together at the café, I started to take you out with me. I started taking you to work. I lavished you with gifts. I poured you into fancy containers, insulated tumblers and holiday mugs. I was proud to show you off. I didn't care who knew about our relationship. Some "friends" of mine were jealous of our love. They approached me when you weren't around. They said that maybe you weren't good for me. They said you were "unhealthy" for me. That was all it took for me to say good riddance…to them! Besides, I didn't need friends anymore. I had you.
There was nothing certain in my life except my love for you. I realized that I needed you, that I couldn't go one day without you. My head would pound all morning until we were finally together. And then my heart would beat with joy as you lifted my spirits. It was around that time when I worked up the courage to invite you into my home. I wanted you to be with me all the time.
I made it clear to my roommates that you were going to be around more often…and if they had a problem with that arrangement, they were free to leave. But they kept their mouths shut. They knew I was serious about you. Also, they could see that you made me happy. I was a much nicer person with you than I was without you.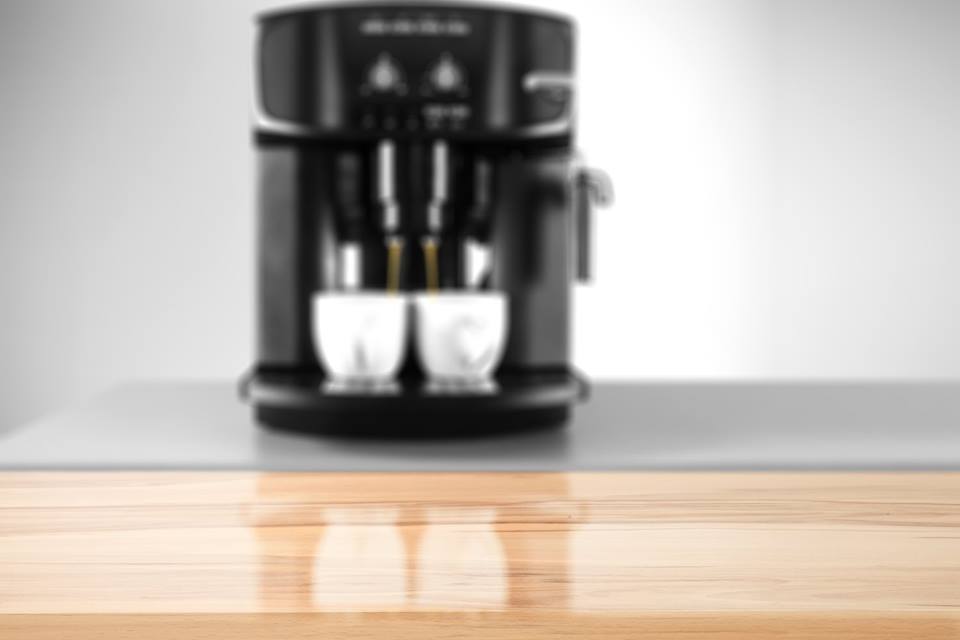 I was so excited the day you moved in. I happily cleared some space on the counter for all your stuff. And wow, you required lots of stuff! That whole counter was dedicated to you; grinders, jars, filters, spices, sweeteners and stirring sticks…not to mention a large assortment of mugs. But these were the little things that made you so wonderful. I was glad to buy all these things if they made you happy because you made me happy.
I figured that a $20 Black & Decker machine was all we needed to make our perfect brew. But what did I know? I was just a clueless bachelor. Next thing I knew, I was ordering a $900 Krups on Amazon. I picked up a few extra shifts at work to afford it, but it was totally worth it. My mind was blown by the coffee this machine produced, like nothing I'd ever experienced before.
Overflowing raptures of excitement swept over me. I was fully addicted to you at this point. Everyday, I learned to experience you in new ways; cappuccinos, lattes, espressos, hot brews and cold brews.
"I was fully addicted to you."
There was no separating us. Everywhere I went, you were with me; in the kitchen, in the bedroom, in the shower, in the car and most importantly, at work. There is no way to calculate the amount of work you helped me to complete. How many times did I arrive to work fully determined to quit, angry at the world, underneath a pile of projects and deadlines? Every time, it was you who lifted my head. You filled me with encouragement and powered me through every challenge. All those days you were with me, I was so productive. You gave me so many ideas. You inspired me. You completed me.
But as you know…time changes us in ways that are hard to predict. Years went by. I started to take you for granted. I began to expect more from you. I was unreasonable and impatient. I would often complain that you weren't as hot as you used to be. Sometimes I'd forget you were there. I'd neglect you for too long and you would become cold. I would then try to heat you up but it was no use. You'd become bitter and I would lose interest.
In this midst of all this turmoil, the Krups machine broke down. It couldn't have happened at a worse time. I couldn't afford to get it fixed because I was still making payments on it. There was no way to bounce back from such a devastating setback. I dusted off the Black & Decker and tried to put on a happy face about it, but it was no use.
Some friends recommended a Keurig machine with those little cups. They said it worked well for them. Perhaps it would rekindle my passion for coffee, they said. I was desperate for solutions, willing to try anything to fix the relationship. So I went and bought a Keurig.
I know they meant well, but it just wasn't for me. Within a week, I gave it away. It lacked the flavor and intensity that I was used to. And those little cups were annoying.
I brought out the old coffeepot again and used it for awhile. But by this time, I was just going through the motions. I wasn't enjoying us anymore. So much had changed. I used to post pictures of you all over Facebook to make my friends jealous. We had so much fun together. I used to make those fun designs on the cappuccino foam. Those were some good times. I even wrote poems about you;
"Oh I'm happy to sing
of the joys of caffeine.
And I'll gladly boast
of my cup of dark roast.
Oh can't you see…
I'm in love with coffee."
I mean, it's not gonna win any awards, but those words came straight from the heart. But now, I just don't know where we are anymore. I feel like I'm just using you to help me get through the day and it doesn't seem right to me. So I think maybe we're better off going our separate ways. Like I said, you don't need me. You don't need anybody. You're not the problem here…it's me.
Also, I should mention…at brunch the other day, a friend introduced me to some herbal teas which he thought would be a good match for me. I'm told they're healthy with all kinds of healthy antioxidants. They're very different than what I'm used to, but maybe these are the kinds of changes that I need in my life. I also tried a chai drink the other night and it was very…interesting. It made me feel cultured and sophisticated.
So I think this is for the best. I'll go my way and you go your way. I wish nothing but the best for you. I will always treasure our time together. We had some great moments, you and me. So…uh…I guess this is goodbye.
UPDATE – three weeks later…
Oh coffee…I am such a fool!
What on earth was I thinking? How did I become complacent with the happiness you gave me? How did I forget about your potent power and your mysterious inspirations?
Those other drinks mean nothing to me. I can't believe I considered them. Please come back to me and fill my cup again!
Join me in the cozy corner of the café where we first met. We'll spend the whole morning together with a journal and some good books.
I'll write and I'll write til I have nothing left to say. As long as I have you, I'll happily start each day.